Successfully Juggling Multiple Projects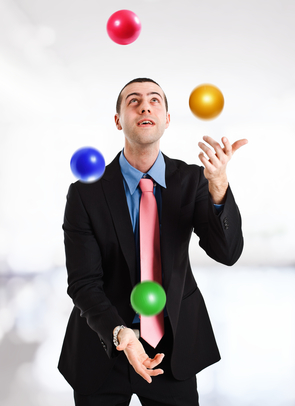 By: Brad Egeland
With the common failure rate of the projects we manage coming in at more than 50%, managing just one project to success is enough of a challenge. In reality though, rarely does a project manager have just one project on his plate – unless it's a huge project that requires 110% of this time. A more likely scenario finds the project manager usually managing anywhere from 3 to 6 projects at time…maybe more.
If we are going to have any chance of experiencing regular success on the projects we manage, then a few things really need to be in place from a PM infrastructure perspective. The overall list could be incredibly long, for certain, and I welcome reader input on this subject as to their own thoughts and experiences. Here I present my list on what our organizations – and project management offices (PMOs), if applicable – should provide to help ensure ongoing success on the projects we manage.
Training
Let's start off with training…it may not be necessary, but it's usually never a bad thing. And from an overall company perspective, hiring experienced project managers who fit your industry and have experienced many project success is important and can be very helpful. These individuals can mentor less experienced PMs giving the project management infrastructure a well-rounded composition. However, there is still going to be needs for ongoing training. And it's not a bad idea to aid the project managers in achieving PMP certification through the Project Management Institute (PMI), the recognized leader in project management certification. One training method to turn to for aid in getting your PMs through that training and certification process is The PM Prepcast which gets your PMs ready to pass the PMP exam and helps them keep their training current post certification. This can keep you and all of the PMs in your organization on the same page and talking the same language – which can make following a structured, repeatable project management process much easier.
Solid PM leadership
PM organizations need a strong leader who is well versed in project management but is not actively managing projects. A PMO director who spends too much time with hands-on project management won't be there to fight for his project managers, cater to their training needs, and help with onboarding critical resources to highly visible projects. A PMO director focused on the needs of the project managers in the organization can often be a much greater contributor to project successes than one who is too focused on the daily project leadership grind of managing a handful of their own projects.
A good resource and scheduling tool
Equipping the project managers with a good resource planning and scheduling tool is very important to the success of your projects. Having a tool that enables this as well as providing you with a firm grip on the resource forecast for the entire project and across all projects is essential. Several web-based tools can do a fairly good job of this for you and so many are now available that you should be able to find one that fits both your functionality needs and your budget.
Executive leadership buy-in
I can't say enough about how important it is for the organization's executive leadership to buy-in to the project management infrastructure. Any PMO without high-level leadership support is doomed to fail. If your executive leadership doesn't support your project organization, then funding may not be there when you need it, critical project resources may not be available to you or may get pulled to other tasks, and highly visible mission critical projects may completely circumvent your PM processes as executives in the organization hand those projects to other departments or 'favorites' that are not part of your PM structure.
A workable PM methodology
No project management structure can succeed long-term without a sound project management methodology in place. There must be project plan shells and templates, reusable processes, practical policies, and a shared knowledge of project information available to the project managers who make up the PMO of project infrastructure in order to achieve ongoing and repeatable success. Without these things in place the PM organization will be relying far too much on luck rather than proven successful practices to deliver ongoing project excellence to the customers they are serving.