The Art of No
Written by Todd C. Williams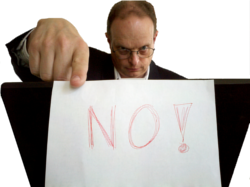 1 The Art of No
There I was, in a nice Montreal hotel conference room, two customers on one side of the table, and my client and me on the other. Taped to the back of my laptop lid was a conference-center supplied piece of paper with a hastily scrawled note on it. The entire message consisted of only two letters followed an exclamation mark. The letters were "N" and "O." They sent a succinct message that was hard to ignore as the customer incessantly strove to get a little more functionality brought into the project's scope. For every request, I would drop my chin slightly, look over the top of my glasses, tap my right index finger on the top of my laptop, and they would eventually relent. Instead of being a pessimistic curmudgeon, I was bringing realism about the budget and timeline and doing what leaders do—making hard decisions.
1.1 Our Yes Culture
There are certainly more polite ways to deny a request; however, this project would be millions of dollars over budget even with my incessant perfunctory reply. Everyone knew that we had to make tough decisions or failure—in the form of cancellation—would be laid upon all of us. Therefore, for three days, we jocularly heeded the sign's advice.
We have become soft. We have created a culture that is rife with the positive. Look no further than how we build estimates. Regardless of the task, we plentifully pad our approximations. We carefully define the effort to complete the assignment and then factor in "contingency." A more eloquent word than "slop," which is a term from the old-days for extra time inserted into schedules for unknowns and unrelated undertakings. Those were the days before our culture consider multitasking more valuable than focus. I deeply desire we return to those days, or at least this prudent philosophy. We would be far more productive. Instead, we push more time into assignments anticipating the boss' email, phone call, or immediate presence with a new-must-be-done-right-now request for averting some immediate catastrophe. All of us, being the recipient of thousands of these demands, know too well that the world will keep spinning if we refuse the request.
1.2 The Lovefest
However, with the superior's request comes the Lovefest. Having anticipate your bosses' action, you have padded your timeline and, with a comforting smile, can reply, "Yes." Your bosses' shoulders drop, he or she exhales a relieving sigh, followed by a faintly auditable "Good" (the great boss says "thank you," but do not get your expectations too high). Everyone is happy as the report of "yes" reverberates back up through the chain of command to the leaders. It gives most a warm, fuzzy "they lived happily ever after" feeling, that nauseates real leaders.
The result is that all tasks become tardier simply because of the managers' inability to prioritize. Prioritization is the one action that provides the ammunition to decline the request. The predictable result of multitasking is always the same—everything becomes late.
1.3 No is Good
Refusing to comply with the request can be much more tactful than hanging such a negative note on your cubicle wall. It starts with denying the opportunity by eliminating pad from our estimates. Eradicating "slop" makes it impossible to use and you can rightfully decline requests with a simple "No, I would, but I am busy getting this task done. If I work on your task this one will be late. Sorry. If you get approval for this task being late, however, I will be glad to help you." This puts the requestor in the position of validating priorities. Never, assume he or she knows what you are working on and how important it is. Taskmasters have the fiduciary responsibility to validating the reassignment; however, that takes work. Discovering conflicting priorities, places them in a position of saying no to the original requestor. My advice: put your current assignments first and if the new request is really that important, your task will be given the grace required. Your ability to deliver on time and as promised will erase any overtones of not being a team player.
1.4 Practice Saying No
The advice is easy; however, the words are hard. Leaders must learn to say no. Our culture is so brainwashed to the positive that we have lost the ability to decline requests. Change that by taking a proactive approach and reading the recommendations of an assertiveness coach. The advice is simple—be direct. Just as shown above, the first word should be "No." Being less direct confuses the communication. Inform them of the actions they should take to attain an affirmative answer and ensure they understand the consequences of changing your priorities.
1.5 Opportunity Crimes
At the heart, though, it is our behavior that creates the opportunity for the crime. Talk to anyone in law enforcement they will tell you, "leave your car unlocked and it will get stolen". They call them opportunity crimes. Put extra time in your schedule and it will be used. Put extra money in the budget and it will get spent. By adding pad, you are guilty of creating the opportunity for your bosses, or any other criminal in the organization, to steal your time. "Stop Slop" and take a bite out of crime.
About the Author:

Todd C. Williams is the founder and president of eCameron, Inc. (www.ecaminc.com), they help companies make their vision profitable. He has over 25 years of experience in recovering failing projects, preventing their failure, and applying those lessons to help other organizations fulfill their strategic goals. He helps his clients through strategic planning facilitation, setting up and running operations, IT leadership, and as an expert witness. He is the author of Rescue the Problem Project: A Complete Guide to Identifying, Preventing, and Recovering from Project Failure. Feel free to connect with him on LinkedIn (linkedin.com/in/backfromred/), Twitter (twitter.com/backfromred), Facebook (facebook.com/BackFromRed), by phone: +1 (360) 834-7361, or email: This email address is being protected from spambots. You need JavaScript enabled to view it..