Episode 100: Alan Parsons - The Alan Parsons Project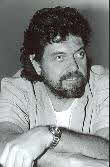 For our 100th episode we are leaving the realm of "traditional" project management. We are taking a one-legged sideways step into the music business but we will still keep one foot firmly grounded in our own art. I am extremely pleased to welcome Alan Parsons (www.alanparsonsmusic.com) on our show today. Alan is a record producer, audio engineer and musician, who is probably best known for his engineering work on Pink Floyd's legendary Dark Side of the Moon album and of course he is the founder of the Alan Parsons Project. From the late 70s to the late 80s the group produced 10 successful albums and their most played song is probably Sirius. Alan and I discuss the roles & responsibilities of a record producer in the production of an album, how the role has changed over the years, we discuss the processes involved in creating a successful album and you'll be very surprised to hear what Alan thinks is the most important skill on the job.
As part of today's 100th episode we are giving away two Alan Parsons Project CDs: The Turn of a Friendly Card. Listen to the episode to learn how to participate.
Last updated on .
Hits: 23666