Episode 104 Overtime: How Projects fit into an Organization
This episode is reserved for subscribers of the Premium Podcast. Learn how to subscribe to the Premium Podcast to access this interview...
Episode sponsored by: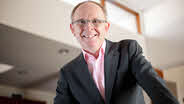 Today's overtime is an interview of our show host Cornelius Fichtner by Wayne Turmel from the Cranky Middle Manager Show.
Last week, Cornelius interviewed Wayne on the role of our bosses in Project Management. And today you get to hear Wayne interviewing Cornelius about how projects fit into into an organization and how important project management can be for organizations. Cornelius makes the case, that every single project in a company is very important.
He starts out by looking at a tiny project that is going on somewhere in a department, how this project relates to the overall economy of the country and then we bring it back to the performing organization and how each project should be embedded in this company's strategy.
Lastly, we also take a look at how an ideal structure of management by objectives will help accidental project managers understand why they are doing a particular project and how it ties back into the company goals.
Last updated on .
Hits: 13502