Episode 108 Overtime: How to Avoid Robot Project Management
This episode is reserved for subscribers of the Premium Podcast. Learn how to subscribe to the Premium Podcast to access this interview...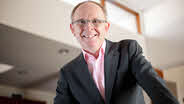 Two weeks ago I discussed Opportunity Creep. The discussion then was sparked by a meeting I had at the PMI® Global Congress in Denver earlier this year. Today, I want to discuss Robot Project Management.
In particular, I want to call out to you and help you avoid becoming a Robot Project Manager.
This concept, too, was sparked by one of the many discussions at the Global Congress. And if you have never been to any type of project management meeting like that then I can heartily recommend it. It doesn't have to be a big one like the congress either. A simple local PM gathering will do. The people you meet and the conversations you have will positively influence you and your career.
Last updated on .
Hits: 13098