Episode 111: PMO Summit 2008
Watch the Video:
---
Audio only:
This episode is sponsored by: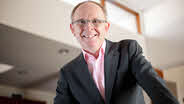 From December 8-10 I attended the PMO Summit 2008. This event was organized by IQPC who had asked me to chair the event. I agreed and so I flew to Florida and acted as the Master of ceremonies (so to speak) for 2 days.
The event itself was a success. We had 2 days full of presentations & workshops. I met a lot of new people, hopefully gained a few more listeners for the Podcast and I had a fabulous Italian dinner and you'll see part of that dinner during the show.
I already did a similar review with Mark Perry from the PMO Podcast and that discussion was released to the listeners of the Premium Podcast. If you want to become a premium listener and receive additional episodes of the PM Podcast then please stop by at the website and click on the  Premium Subscription button at the top left
Last updated on .
Hits: 16960