Episode 111 + 11/11th: The 2008 Bloopers Episode
This episode is sponsored by: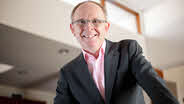 Another year has gone by and it has been full of exciting, boring, successful and (yes) failed projects that have been managed throughout the world. And it has been my pleasure to bring some of these projects and the means by which we lead and manage them to you.
But now it's time to close out the year 2008 and have some project management fun. This means that I am opening up the vault of bad recordings and in this episode of The PM Podcast you are going to hear all the things that didn't go as planned during the production of The PM Podcast.
Yes, this is the bloopers show, in which I lay bare all the ah, uhm, coughs and the times when I stumbled over difficult word combinations.
Last updated on .
Hits: 13078