Episode 117 Premium: The Value of the PMO
Watch the Video:
http://media.libsyn.com/media/pmpodcast/PM_Podcast_117_2009_04_17_-_PMO_Value.mp4
This episode is sponsored by: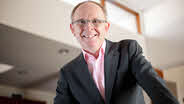 In December of 2008 I was invited to be the host at the 2009 PMO Summit in Coconut Grove, Florida. As the host, it was my privilege to set the tone of the day and begin with a short, 10 minute keynote presentation to set the tone for summit.
I decided that (because I had never seen anything like it before) that I would create a short survey to determine the value of the PMO. I did so and over 500 people responded. This video shows the results of this survey.
It was at that PMO summit that I met Terry Doerscher from Planview and you have heard him as a guest in the previous 2 episodes. In one of them he presented the PMO 2.0 Survey Results. So it was indeed interesting for me to see that other people had done similar surveys and it was also interesting to see that our surveys both complemented and contradicted each other a bit. This was definitely due to the fact that his survey was much more in-depth while this one here was really just trying to take the pulse of the podcast audience.
Last updated on .
Hits: 14133