Episode 118: Cultural Awareness and Cultural Intelligence
This episode is sponsored by: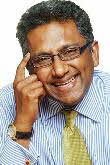 Many aspects of culture are invisible, yet culture has an enormous impact on our projects. If ignored, these aspects can lead to misunderstanding, stress and conflict. Alternatively, if attention is given to the invisible aspects, it can enhance productivity, improve project teamwork and create more joy on the job.
Dealing with cross cultural issues on a multi-national projects can be like trying to control an invisible elephant. The issues are real and crucial as we journey into the new era of increasing globalization.
That is why I am very happy to welcome Tom Verghese (www.culturalsynergies.com) on The Project Management Podcast. Tom is the author of the book The Invisible Elephant - Exploring Cultural Awareness. We are going to discuss, what culture is, how cultural awareness and cultural intelligence will help you to better deal with your project teams, and Tom will give you some very specific tips on how to increase cultural synergies on your projects.
In this episode we are giving away 2 copies of his book, 1 copy of his CD "Raising your cultural IQ" as well as 2 copies of his CD/DVD "Sourcing Across Cultures". Listen in to learn how to participate.
Last updated on .
Hits: 20329