Episode 200 Part 2: The Number One Challenge in Project Management Today (Free)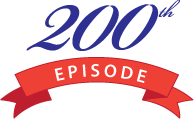 In case you haven't listened to part 1, then let me just quickly remind you what we are doing for our anniversary. We have asked 20 thought-leaders in project management one simple question:
In your opinion, what is the number one challenge that project management is facing today and how do we best address it?
The four parts of episode 200 are the compilation of their answers.

So let's move on and hear what
have to say.

By the way... Roberto Mori is the president of IPMA, Stacy Goff is president of ASAPM and you might be wondering if I didn't reach out to PMI's president Mark Langley... I did and Mark sent us a video response. To hear what he has to say please watch part 4 with all the videos that we got.
Episode Transcript
Below are the first few pages of the transcript. The complete transcript is available to Premium subscribers only.
Podcast Introduction
Cornelius Fichtner: Hello and welcome to Part 2 of Episode #200. This is The Project Management Podcast™ at www.project-management-podcast.com and I am Cornelius Fichtner. Nice to have you back for this milestone.
In case you haven't listened to Part 1 then let me just quickly remind you what we are doing for our anniversary. We have asked 20 thought leaders in project management one simple question: In your opinion, what is the number one challenge that project management is facing today and how do we best address it?
The four parts of Episode 200 is the compilation of their answers. So let's move on and hear what Ron Holohan, Roberto Mori, Elizabeth Harrin, Stacy Goff and David Blumhorst have to say.
By the way, Roberto Mori is the President of the International Project Management Association and Stacy Goff is President of the American Society for the Advancement of Project Management. You might be wondering if I didn't reach out to PMI's President, the Project Management Institute's President, Mark Langley. I did. And Mark sent us a video response to hear and see what he has to say. Please watch Part 4 with all the videos that we got.
Responses
Ron Holohan: Hello! This is Ron Holohan from the pm411 project management podcast. And Cornelius, I want to congratulate you on your 200th episode. That is just fantastic.
I remember not that long ago getting my first MP3 player and going on the internet and trying to find some resources on project management and stumbling across your very first episode. I just thought it was fantastic and all your episodes since then have been such a great resource to myself as well as thousands of other people and I want to really thank you for all the effort as well as inspiration for other podcasts like my own that you have provided over the years.
Now to your question: What is the number one challenge that project management is facing today and how do we best address it? I think this is a great question. I've been pondering it. And I think it's really remarkable if you think about it. There is so much technology in the world to help us with communication. We have cellphones. We have Skype. We have email. We have YouTube. We have instant messaging and unified communications and cellphones and all of those other great technology. Yet I think we're getting worse at communicating with people on and off of our teams. I think that a lot of us find that we're so busy with other things maybe it's distractions from things like email and cellphone calls and things like that. But there are so many other things that we're trying to manage that we find ourselves not doing good practices and communicating with our stakeholders and our team members.
I know I've done some podcasts myself on weekly status reports and presentations. And I think these things are very important and a lot of project managers in the past have come to me and said: "You know, I just don't have time to do a weekly status report." And what I usually say is: "Well, I think what you're not doing is prioritizing your time to make sure you do weekly status reports." Sometimes I have people say: "You know people just don't read my weekly status reports." Well that in itself is probably more of an issue to figure out what is going on and how to get people to read your status reports. So maybe it's a different media format that they need as a stakeholder in understanding what's going on with your team.
So communication is extremely important. It is something that you must do. You must do it on a consistent basis. You must make sure you understand what your stakeholders' needs are and this is going to resolve a lot of issues that cause projects to fail. Things like scope creep and conflicts and misunderstood requirements or no requirements and just poor communication in general. Those things can all be addressed by better communication. So hopefully that helps you and thanks again Cornelius for your wonderful podcast. And here's to 200 more episodes.
Cornelius Fichtner: The following is the input that Roberto Mori, President of the IPMA sent for our 200th episode:
"Hello Cornelius! Congratulations on your 200th PM Podcast and thank you for this great opportunity. I'm Roberto Mori, the current President of IPMA, the International Project Management Association, the oldest project management association founded in 1965. It's composed today of 55 national member associations established in countries on all the continents. It's a federal organizations registered in Switzerland. It's website is www.ipma.ch.
The PM challenge I'll refer to is the increasing weight of the intercultural project management to seek success of the complex projects that all business and society sectors worldwide more and more envisage ends meet to execute. The IPMA competence approach as reflected in the IPMA competence baseline used as reference for the IPMA professional certifications considered the behavioral competence that's the soft skills as indispensable for the successful performance of project managers and teams. In fact, soft skills such as reliability, creativity, consistency, passion, persistence are providing to be the key to go the extra mile along the route towards that performance.
However, in the current globalized world, they are not sufficient any longer to face the challenges raised by the rapid increase of complex projects driven by social and development needs, technology changes, political, economic and financial turmoil, new energy sources, huge natural disasters. Stakeholders require project managers and teams to face related challenges with the wise application of those skills worldwide as the project management is undoubtedly a universal discipline, a universal way of simply making things happen.
In their tasks of driving complex projects forward and motivating team members to achieve the goals, project managers face an additional challenge which can result in an absolutely valuable opportunity --- multicultural diversity. Intercultural project management is the means to exploit such an opportunity through a system of tools that allows reaching goals in international intercultural projects by managing in a structured way the relationships among people in different cultures. Diversity is then turned from a problem into an extra powerful tool to support project success.
As a matter of fact, multicultural environments can be a amazingly powerful in terms of cross-fertilization and innovation if we are able to move from awareness of our own culture towards respect and reconciliation of cultural differences through a culture-sensitive project management.
Research and experience have shown that more complex intercultural projects are often less successful. Failures of such projects are very often due to soft reasons that is lack of communication skills, poor power management, unclear delegation and liability inefficacy in risk management, et cetera, rather than technical ones.
Project management aspects mainly affected by cultural diversities are:
(1) Decision making processes. Delays misunderstandings, problems, anticipation, et cetera.
(2) Risk management. Differences in dealing with uncertainty, capability to react against unforseen events; different approaches in mitigation plans, et cetera.
(3) Time Management. Different perceptions of time urgency. Punctuality impromptless, deadline sensitivity, et cetera.
(4) Project Control Capability.
So if a project manager is aware about how to identify and deal with cultural diversity, how to search for cultural diversity, how to anticipate problems deriving from cultural diversity then he or she will be more effective in controlling costs, getting results, satisfying project stakeholder expectations.
The intercultural dimensions that mainly affect project results are related to power distance, individualism, focus on tasks versus relationships and value of time. These dimensions reflect the cultural values which in turn drive our behaviors. Therefore, a different and effective way to face and solve cultural differences in project management is to shift from behaviors to values. In other terms, to understand the behaviors, we must know the related cultural values. The challenge is that the behaviors are the tip of the cultural iceberg whereas the values are the much bigger submerged part of it. Nine-tenths of culture is below the surface. We therefore need a deep dive into cold waters to become aware of those values. It is an exciting challenge if one considers that the hidden culture relates to unspoken and even unconscious rules and to the high emotional level.
Recalling that the promise of project management is efficient, effective and beneficial change, we project managers as change agents are expected to make the difference and be the change that we would like to see in the world. To quote Mahatma Gandhi: "Which greater change than showing through the projects the synergic power of multicultural diversity."
And once again, this was from Roberto Mori, President of IPMA.
Elizabeth Harrin: Hello! My name is Elizabeth Harrin and I'm the author of "Social Media for Project Managers" and "Project Management in the Real World".
I think the biggest challenge facing project management today is that project related work and jobs are growing too quickly for our approaches to professionalism to keep up. Let me explain what I mean. There are a lot of acronyms coming so I apologize in advance for that.
The world of work is becoming more focused on projects. I don't think it's just project professionals who would say that either. Business leaders are also aware of the fact that projects are core parts of any company. And project management standards and approaches are being applied to more things.
The role of the project, program and portfolio office is growing. There are different types of roles available now to people who want to work in projects. You could be a PMO specialist, a risk professional or a project support officer. The management frameworks and organization structures that support project-based work are in use in many companies. All that's great. However, the gross means that project management has different interpretation for different people. Project management jobs are offered with salaries of 20,000 pounds to upwards of 80,000 pounds. That can't possibly be the same job with the same responsibilities.
The approach we've taken to professionalism and explaining what project management is really revolves around industry bodies. In the United States, this is relatively clear as the Project Management Institute, PMI, sets the standards for what project management means. I didn't say it because I am a particular fan of their Project Management Body of Knowledge or the PMP® credential, but because in the US, there isn't as much competition between industry bodies.
In the UK, it is a different story. We have the office of government commerce which produces Prince2 and the MSP frameworks. These are the de facto requirements for project and program managers over here. We also have the Association for Project Management which is affiliated to the IPMA. They have their own body of knowledge and their own credential scheme. Then we have a small but relatively active PMI chapter. So there are people with PMP and other PMI® credentials.
For employers, it is a mess. Do you want a Prince2 practitioner or a PMP or someone who has both? What does APMP mean and is it better or equivalent to a Master's Degree in Project Management? If I want to recruit a PMO manager, where should I be looking for? There's no national standard to help employers make the right decision for their company.
Above are the first few pages of the transcript. The complete PDF transcript is available to Premium subscribers only.
Last updated on .
Hits: 21176