Episode 200 Part 4: The Number One Challenge in Project Management Today (Free)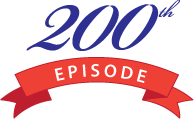 In case you haven't listened to part 1, 2 or 3, then let me just quickly remind you what we are doing for our anniversary. We have asked 20 thought-leaders in project management one simple question:
In your opinion, what is the number one challenge that project management is facing today and how do we best address it?
The four parts of episode 200 are the compilation of their answers.

In part 4 we see the video responses of
Episode Transcript
Below are the first few pages of the transcript. The complete transcript is available to Premium subscribers only.
Podcast Introduction
Cornelius Fichtner: Hello and welcome to Part 4 of Episode #200 of The Project Management Podcast™.
In case you haven't listened to Part 1, 2 or 3 then let me just quickly remind you of what we are doing here for our anniversary episode. We have asked 20 thought leaders in project management one simple question: In your opinion, what is the number one challenge that project management is facing today and how do we best address it?
The four parts of Episode 200 is the compilation of their answers. And of course you are currently watching Part 4 of this anniversary episode in which you are seeing the 4 video responses that we have received.
So in just a moment, you will hear and see the answers from Mark Langley, who is the President of PMI; Peter Taylor, the Lazy Project Manager; Rich Maltzman from Earth PM; and Wayne Turmel who is the Cranky Middle Manager.
Enjoy!
Responses
Mark Langley: The number one challenge facing project management today is improving how organizations attract, train and retain project management talent.
The Financial Times wrote recently that the profession is virtually recession proof. Organizations are always looking for people who can demonstrate the ability to run their most important projects and they are in short supply. That sounds like heaven for practitioners but in fact, too many organizations aren't clear on what they're looking for and how it fits into their strategy.
First, there is still too much of the executive attitude that project management is a tactical nuts and bolts skill, something any good manager ought to be able to pick up along the way. They don't recognize it as a growing profession with its own body of knowledge, standards and certification. They assign projects to people who are perfectly good line managers when they're managing routine operations with the same team day in and day out. But they don't know how to analyze the dependencies and risks of unique initiative or hit the ground running with the project team.
Second, there are organizations that do have pockets of excellence in project management but may not see project execution as a strategic competency. The project is the traction point where the rubber meets the road for strategic execution. In a perfect world, every senior executive will understand that while operations reflect what the organization is today, its portfolio of projects determine what the organization will become. So organizations need to be investing in the right projects and that demands more than good project managers in the trenches. It demands project and program management maturity, a culture that values projects as fundamental steps in organizational change, learning and growth.
Organizations with cultures like these use their project and program management competency to drive competitive advantage. Typically, the organizations that recognize and meet these two challenges can find the project management talent they need and within those organizations, practitioners benefit as much as the organization does from project management maturity. Projects closely aligned with strategy are more rewarding to work on as well as more rewarding for the bottom line.
You see that when looking at world class project ties organizations like IBM, CH2M Hill, Accenture, Siemens and ZTE. Each adds its own flavor to project management maturity and each cultivates its own internal and external talent pipelines but they all recognize its vital importance.
Peter Taylor: HI there! My name is Peter Taylor. I am the Lazy Project Manager. I'm also the author of "Leading Successful PMOs" and now "The Lazy Winner".
I'm not here to talk about my books today. I'm here to talk about my friend Cornelius Fichtner. Cornelius tells me he is about to celebrate 200episodes. That's 200 episodes of The Project Management Podcast. Well done, Cornelius! Well done indeed.
As part of this, Cornelius asked me to talk about something I think is really important in project management today and that's what I'm going to do.
Project management of the world, I am concerned. Your projects are under threat. Your projects are at risk. Tell me, how many of you out there get to choose the project sponsors you work with? Very few I imagine. It would be honest, wouldn't it? Hey, come on in and take a seat. Interesting resumé! So tell me: "Why do you think you are going to be a good sponsor? What are your strengths? What are your weaknesses? How are you going to deal with those? You know, I really don't think you're right for my project. I suggest you go and receive some more training and be a good project sponsor and then next time around, you can get the job." That would be great, wouldn't it? It's never going to happen though. After that, it's very important to have a good project sponsor. Like the saying goes: You can pick your friends but you can't pick your relatives and the same is true of project sponsors.
What exactly is a project sponsor supposed to do? Well, responsibilities include providing direction guidance for strategies and initiatives, negotiating funding for the projects, actively participating in the initial project planning, identifying project steering committee members, working with the project manager to develop the project charter and so on.
Okay, nice list. But do we really have good project sponsors out there that work in harmony with project managers the world over? To judge that, we need to look in more detail what makes a good project sponsor.
The project sponsor is the key stakeholder representative for the project and provides the necessary support for the project manager with the primary responsibility of achievement of the project objectives and benefits. Inappropriate choice of project sponsor can seriously impact the possibilities of success of the project and provides you, the project manager, with unwanted additional overhead.
Potentially a bad sponsor will exhibit some or all of these behaviors. To be a successful part in this project, they need to be connected to you, the project manager, and to the project team. If they are remote, then that is a red flag for sure. And if they are too busy to meet, to discuss or to aid, then that paints that red an even darker shade. If they avoid helping in the assignment of project roles and responsibilities and never have time to timely approve documents then you have a problem that is reaching critical status. Throwing a dash of blame at anyone but themselves for any problems, then it's probably time to walk away. You are in real trouble and so is your project. A bad sponsor is potentially your worst nightmare. Conversely, a good project sponsor will behave in the opposite manner in these areas or happily act as advisor to the project manager and will focus on the moving obstacles in the path of project success.
All these is well and good but to be truly fair to project sponsors around the world, how have they manage to gain this position of importance and how have the companies that they worked for supported that in this critical activity? I say, let the campaign begin. It is said that a project is one small step for a project sponsor and one giant leap for the project manager. Wouldn't you feel so much better if you knew that the project sponsor's one small step make sure that your giant leap offer the safe and secure fine landing?
It's been my experience that the skill of project managers continues to grow and more and more organizations are developing project managers' discipline in mature manner. The same cannot be said of all project sponsors. The main role and belief that project sponsor is just a big head that is never called to active duty. How wrong! How very wrong! There's a lack of personal development and support and sources of information and guidance for project sponsors and you need it urgently I believe.
And so I would like to launch the campaign for real project sponsors where we see real investment in anyone who acts in such a key role. Project managers in the world deserve this.
Okay, I need you to come with me. Come up this is really important, important to join me. Join me in the campaign for real project sponsors. "We want real project sponsors!"
Congratulations, Cornelius, a fantastic achievement 200 episodes. The PM Podcast is going stronger every month. If I was in America, I would say something like "Awesome dude!" but I'm not. I'm British. So I would just say "Jolly, well done old champ!" All the best from the Lazy Project Manager.
Rich Maltzman: Hi Cornelius, Rich Maltzman here. I'm the co-founder of Earth PM and co-author with David Shirley of Green Project Management and we have been on your show a couple of times and enjoyed every moment of it. Congratulations on your bicentennial episode. We're looking forward to that and again, congratulations. And thanks for asking such a good question: What is our top challenge as project managers? I'm going to combine that with challenge, responsibility and opportunity. Those three things I think all come together in adding sustainability thinking into our projects.
Above are the first few pages of the transcript. The complete PDF transcript is available to Premium subscribers only.
Last updated on .
Hits: 26206