Episode 293: 5Saturdays - Teaching Life Skills using Agile Project Management (Free)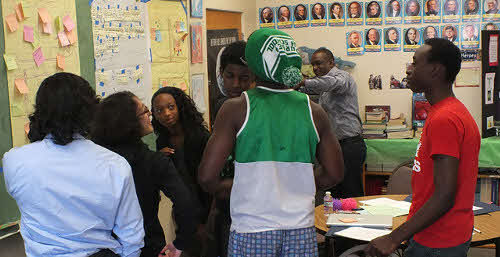 This Interview with Dave Cornelius was recorded at the PMI Global Congress 2014 in Phoenix, Arizona.
5 Saturdays (http://www.5saturdays.org) is a program created to support non-profits and other organizations with outreach initiatives into the local community. It teaches life-skills to high school students using project management approaches from the Agile movement.
The program emerged from curriculum created by Dr. Dave Cornelius while partnering with Holman Community Development Corporation in Los Angeles to introduce technology as a profession to urban high school students.
The program achieved success, as students were able to explore career-focused areas such as information technology (IT) and grasp life skills that included: creative and critical thinking, effective communications, Agility using Scrum and Kanban, and root cause analysis using "5 Whys".
Episode Transcript
Below are the first few pages of the transcript. The complete transcript is available to Premium subscribers only.
Podcast Introduction
Cornelius Fichtner:With me right now is somebody who shares my name, Dave Cornelius is back. Hello, Dave!
Dave Cornelius: Well, hello, Cornelius! I always love having this conversation with you. We have this great exchange.
Cornelius Fichtner: Excellent! So welcome back on the program. This time we'll going to be talking something that is much, much closer to your heart I think than project management is. It's a program called 5Saturdays.
Dave Cornelius: Yes, 5Saturdays as the time that we spend with high school students between the age of 14 to 18 years old and we teach them Agile project management. We teach them about technology, software development concepts, root cause analysis 5 whys, creative thinking and critical thinking. One other important aspect that we know that's really important to project managers, effective communications.
Cornelius Fichtner: Okay. Let's take a step back. What got you to do that? Why is this important to you?
Dave Cornelius: Well this is important from the fact that we have in the project management space, in the technology space, we have a lot of what I would call the unreserved people who have needs who are not really met. In terms of African Americans, Latinos, women who are not really represented very well within those professions and just having conversation with other colleagues, we said: Well, what can we do to make a difference? How can we change those odds? How can we get involved in the community go directly into the communities and give those students an opportunity to learn about technology, to learn about Agile project management something that's really never taught within the high school framework? So we felt this is a great place for us to start to get involved in that way.
Cornelius Fichtner: Why Agile?
Dave Cornelius: I believe that Agile is small enough, something that students could really grasp because it's very lightweight.
Cornelius Fichtner: Yeah, you don't want to teach them the PMBOK Guide®, right?
Dave Cornelius: What you and I know for being PMPs how much effort it takes to become PMP certified. Now, I could teach a high school student to learn about Scrum, which is an Agile framework, Agile project management practice I would say 15 hours and they could be very comfortable with the language. They could get together, collaborate and have great teamwork in the process.
Cornelius Fichtner: What is it that you do with 5Satudays?
Dave Cornelius: Oh what we do is we create…my job is like a facilitator. I'm involved. I am teaching. I am engaging with students. I'm building their confidence. I am teaching them life skills, how they are able to leverage the skills in terms of effective communication and planning and collaboration and teamwork, all of the things that we need to survive in the work force and teaching them how to do that over the weekend. Because we know that students are busy during the week. Saturday mornings for some reason just seems to work out just well for 3 hours. They have enough time and space to do that.
Cornelius Fichtner: How many students are participating in the program?
Dave Cornelius: Just in 2014, we started out with about 12 students. We actually finished with 7 and 5 students actually attended all 5 but 3 of the students actually finished the program. They actually went through the entire program and finished their software project all within a 5-week period.
Cornelius Fichtner: Right so this is a new program that you just started this year?
Dave Cornelius: Yes.
Cornelius Fichtner: Did you start it?
Dave Cornelius: From a curriculum perspective, yes. This program started with Hallman CDC which is part of a church in LA. They started this about 3 years ago called the Technology Workshop. But technology workshops need curriculum and that's where I come in.
As a knowledge worker, I bring that knowledge and experience to the students where they have an opportunity to learn real world experience, the knowledge about project management and software development concepts.
Cornelius Fichtner: So what exactly is in it for the students? Will they be able to apply Agile in their daily lives as students?
Dave Cornelius: Oh yeah, yeah because basically we allow them to bring in projects that they would want to work on…
Cornelius Fichtner: Ah, from school.
Dave Cornelius: …from school. I talk to them about the fact that if you're planning to go to college, let me show you how you could use Agile to do great planning, to go through a college application to go through the whole process because applying to college is a rigorous process.
Well if you could have a simple framework where you can see what did I plan? What am I doing? When I'm done visually, they know exactly what's going on. They know the status of what's going on.
Cornelius Fichtner: What's in it for you?
Above are the first few pages of the transcript. The complete PDF transcript is available to Premium subscribers only.
Last updated on .
Hits: 11868