Episode 303: Agile Transformation Lessons from an Ancient Greek (Free)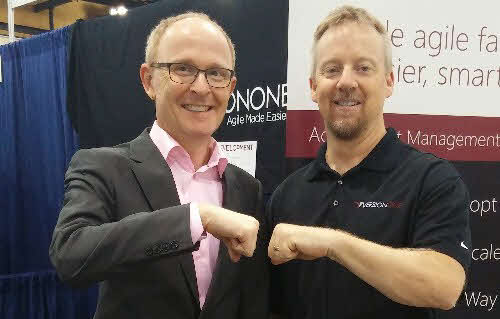 This Interview with Brian Irwin was recorded at the PMI Global Congress 2014 in Phoenix, Arizona.
While organizations might find it easier to first address the processes and tools they will use when they're delivering agile projects, it is individuals and their interactions that ultimately determine the level of enduring agile success an organization is able to realize. The change required to enable long-term agility is cultural in nature. For change to occur, the beliefs and values held by individuals in the organization must be examined.
Organizational change cannot be mandated through top-down edicts and policy. An environment that fosters both individual and organizational transformation must be created. One way to help individuals through a change of this magnitude is through the use of deep questioning which is born out of genuine curiosity.
In his presentation at the congress (and also in our interview) Brian Irwin outlines a method of critical thinking through the use of Socratic questioning to enable individual, guided discovery and provides an example of its use.
Episode Transcript
Below are the first few pages of the transcript. The complete transcript is available to Premium subscribers only.
Podcast Introduction
Cornelius Fichtner: You are listening to The Project Management Podcast™ at www.pm-podcast.com and we are coming to you once again live from the 2014 PMI Global Congress in Phoenix, Arizona. And with me and for the third time here on the Podcast is Brian Irwin.
Podcast Interview
Cornelius Fichtner:Hello, Brian!
Brian Irwin: Hello, Cornelius! Good to be back!
Cornelius Fichtner: Yeah, absolutely, we're happy to have you. Your topic is "Agile Transformation - Secrets from an Ancient Greek." Before we jump into your presentation, a quick question: How much effort was it for you to prepare this congress presentation and the whitepaper you had to write for it as well?
Brian Irwin: So the paper itself was not actually too bad to pull together. I really like that there are some conferences that you go to do not require a paper. I really like that this one does because it forces you to work through your thoughts and you want to convey so it gets you thinking about the presentation actually a little bit better.
Cornelius Fichtner: And how much effort would you say it was for you in total hours?
Brian Irwin: Oh total hours to get the first draft out, probably half a day.
Cornelius Fichtner: Half a day, okay and then you had to do the presentation. So we're probably talking about 2 days worth of work in total?
Brian Irwin: Probably in total, yeah.
Cornelius Fichtner: So you've given the presentation yesterday I believe right?
Brian Irwin: I gave it this morning.
Cornelius Fichtner: Gave it this morning, okay. So was it worth it? Was it worth the 2 days of effort you put in to this?
Brian Irwin: Yes. Anytime I get to speak in front of people, it's awesome!
Cornelius Fichtner: Alright! Agile Transformation - Secrets from an Ancient Greek, so who is the Greek?
Brian Irwin: So the Greek, it should probably come as no surprise, it's Socrates. And it's based on using Socratic questioning to bring forth underlying beliefs and values of individuals so that we can get them surfaced and hopefully help individuals understand why they think the things that they think. So if I had to say this presentation was about one thing, it would be about facilitated critical thinking.
Cornelius Fichtner: Why is this topic important to our listeners? What are they going to learn from our conversation?
Brian Irwin: Well, the crooks of what I speak about in the presentation was that when we start going through Agile transformations at an organizational level, it's real easy and the easy answer is to bring in training. Bring in training, bring in coaching and that's a great first start and it's absolutely needed.
But then we thrust the people that are in the training back out in the organization which may not be designed or have a culture to support work getting done in an Agile manner. So what these people need to be given are new experiences that support new beliefs and new ways of working which will drive new actions and behaviors leading to results from Agile.
Cornelius Fichtner: Alright! One of the underlying concepts of your presentation is really organizational change. So please help us understand Agile organizational change.
Brian Irwin: Yes, Agile organizational change is not too bunch unlike other organizational change. Organizational change more than simply process and structure redesign. You're really talking about a new way of doing things and a new philosophy and a new culture. So there are organizations out there that really do Agile well but if you look closely at them, they don't do really hard core Scrum or XP or Kanban, typical Agile methodologies. You can be Agile and basically when I say that I mean respond to change well, pivot to different directions and still not do all of any one methodology if you have an Agile mindset and an Agile philosophy and culture.
You can, which I've seen many organizations do, you can have all of the right ingredients in place, do all of the Scrum meetings, have all of the roles, all of the artifacts, project burn ups, burn downs, sprint review meetings, retrospectives and not be any more Agile than a typical traditional Waterfall company. So it's really about changing and instilling a culture of continuous learning, fast feedback and really looking at the team level delivery of value to the customer.
Cornelius Fichtner: Okay. Whenever we talk about transformation, we have to talk about push back because it'll inevitably happen. So what are some barriers to Agile transformation?
Brian Irwin: Uh, where do I start?
Cornelius Fichtner: The usual suspects?
Brian Irwin: Yeah! There are barriers from everywhere for Agile transformation. So one of the biggest barriers that I see is just you know, people not understanding or realizing what's in it for them or why they're even going through it. A lot of times, an Agile transformation is initiated; it can be initiated from the top and it comes through as a mandate. I like to see that change isn't necessarily what's the problem here. It has potentially changed that is thrust upon us that's not of our choosing. That's one area of Agile adoption blockers.
Another one is the unwillingness to dedicate people to teams and still take an approach of resource allocation across many projects. So that's one of my pet peeves by the way, it's human resources. It's people. Although I may be a cog in the machine, I don't like to be referred to that way. It's really individuals. It's people. So having teams focus on work instead of individuals allocated by skill set across projects is a big barrier.
Cornelius Fichtner: So then what is a better approach?
Above are the first few pages of the transcript. The complete PDF transcript is available to Premium subscribers only.
Last updated on .
Hits: 16910