Episode 438: Sunil Prashara, President and CEO of PMI (Free)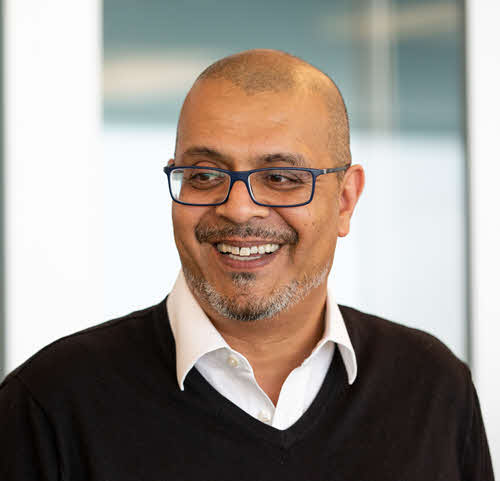 Sunil Prashara, President and CEO of PMI
Today, we welcome Sunil Prashara (LinkedIn Profile) who is the President and CEO of Project Management Institute (PMI)®.
This interview was recorded at the PMI® Global Conference 2019 in Philadelphia, Pennsylvania, USA. We discuss Sunil's responsibilities within PMI, how project management is changing the world, delve into PMI's transformational journey and touch upon how PMI members can help the organization succeed in today's constantly evolving environment.
Here is what one of my colleagues had to say after listening to the interview:
Bravo! That was an awesome interview! I was very impressed with Sunil, on many levels. He is a true visionary who knows himself and the changing world around him. He is an excellent speaker who understands project management, PMI, and it's potential future.

This is an interview that many people will listen to and say, "Wow! This is where the future of project management and PMI is headed and it's inspiring."

Jonathan Hebert, PMP, CSM, PMI-ACP
I cannot agree more with what Jonathan is saying. This is one of our best podcast interviews.
In the interview we also mention The CEO Corner and Straight Talk with Sunil, where he invites PMI staff to talk about what's going on behind the scenes at PMI. Check it out!
Project Management Professional (PMP)® Exam: PMP Exam prep:


Episode Transcript
Below are the first few pages of the transcript. The complete transcript is available to Premium subscribers only.
Podcast Introduction
Cornelius Fichtner: In this episode of The Project Management Podcast™, we meet Sunil Prashara, President and CEO of the Project Management Institute (PMI)® and we talk about PMI's transformational journey.
Hello and welcome back to The Project Management Podcast™ at www.pm-podcast.com. I am Cornelius Fichtner. We are coming to you live from the 2019 PMI Global Conference in Philadelphia.
Podcast
Cornelius Fichtner: And with me right now is Sunil Prashara, the President and CEO of PMI. Hello, Sunil!
Sunil Prashara: Yeah! Good morning, Cornelius. Lovely to meet you.
Cornelius Fichtner: Same here. So you are the President and CEO of PMI, What are your main responsibilities in this role?
Sunil Prashara: The first responsibility I guess is to be the lead advocate for the professional project management. What does that mean? That means that effectively as the leader of the Project Management Institute operational functions, it's my role to ensure that the messages that PMI are sending or landing across the globe with various individuals, with organizations, with governments and the like. So I think that's the key responsibility.
Embedded in that is I'm also responsible for the operational management of the PMI Institute. That is everything from managing the content, the content of the certifications, managing the types of certifications that we do, the standards, the methodologies, basically being the organization that's responsible for ensuring that everything that there is to be known about project management is getting out there to the communities.
Cornelius Fichtner: And who do you report to?
Sunil Prashara: So I report to a board. The board is made up of actually it's a non-paid board. It's a volunteer board. It's made up of 12, actually, it's made up of 13 individuals, 13, is it?
Cornelius Fichtner: I think it only went down from 15 to 12, didn't they?
Sunil Prashara: Yeah. It's gone down to 12. Oh yeah, so when I…
Cornelius Fichtner: I never know the number myself.
Sunil Prashara: Yeah and so I think that before I joined, it was 15. So during my interview process, I think it was 15. And then by the time I came on board, it gone down to 12. So that's where we are today.
Twelve non-paid volunteers that have had long history in project management, various different executive roles and they come from all sorts of disciplines from all-around the globe. I basically report into the board.
Cornelius Fichtner: You mentioned your interview process. You've been on the job close to 7 months now. So far, what's been the biggest surprise for you?
Sunil Prashara: Well, I was told during my interview, interview process that...
Cornelius Fichtner: Everybody gets told something that doesn't pan out.
You know the whole organization really operates on the back of the hard work that is put forward by the volunteer community and there are thousands of them. And their passion and desire for project management is off the scale. It's beyond off the scale. It's incredible. It's such an amazing thing to see because I come from a for-profit world. PMI is not for profit.
And many of my colleagues who don't appreciate what PMI stand for in the for-profits world are blown away when I talk to them about the kind of work that the volunteers will do to keep the whole organization running and to see it first hand in events like the one that we're at today and what I saw in Singapore or what I saw in Tanzania and the various limbs or conventions, congresses that we have, it's incredible to see that.
So I think that that is a huge surprise for me, the scale and size of the organization, the reach that the organization has, the passion of the people that are associated with PMI and the expertise that is sitting in spades around the organization, incredible amount of expertise and depth of knowledge from years right the way up to recent activities. So it really is an amazing association of individuals that come together to create something very, very special. And seeing all of that in reality. When the board says: Oh you're going to be surprised when you join." Boy, was I surprised but in such a nice way. It's an iconic moment of my career, I have to say.
Cornelius Fichtner: Alright. Let me jump on something you said earlier, for-profit and not-for-profit. I looked at your resume, impressive. There are many for-profit companies out there who would fight to have you as their CEO. Why did you choose a non-profit?
Above are the first few pages of the transcript. The complete transcript is available to Premium subscribers only. Please subscribe to our Premium Podcast to receive a PDF transcript.
PDUs: Business Acumen, PDUs: Power Skills, Servant Leadership, Strategy design, Strategy implementation, Project Management Institute