This episode is sponsored by The Agile PrepCast. PDU for PMP®: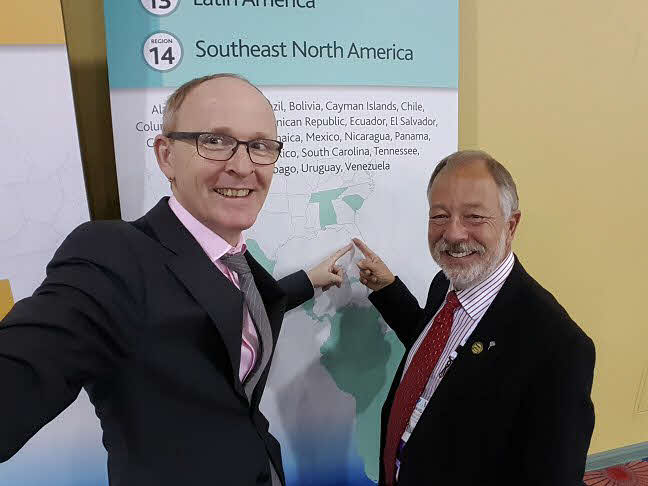 Cornelius Fichtner and Dr. David Hillson
(We're pointing at Disneyworld on the map)
This interview with Dr. David Hillson was recorded at the 2015 PMI® Global Congress in Orlando, Florida. We discuss his paper and presentation "Weight Loss For Risky Projects". Here is the paper's definition of Risk Obesity:
"Risk obesity" occurs when there is too much risk in the system, resulting from uncontrolled risk appetite (Hillson, 2014). This can affect the business as a whole if strategic risk-taking decisions by the senior management team lead to risk exposure that is greater than the organization can manage. But risk obesity can also occur at the project level, when a particular project is carrying levels of risk that are too high, posing a significant threat to the project's success.

Each of the characteristics of physical obesity has parallels in risk obesity, where we accumulate excessive risk exposure that threatens the ongoing health of our project, and that may ultimately be terminal. Risk obesity also makes other risk ailments more likely, as high levels of risk exposure challenge the ability of our risk management processes to cope.

The main cause of risk obesity is an uncontrolled or inappropriate risk appetite (Hillson and Murray-Webster, 2012), leading us to take on too much risk without the ability to digest it and deal with it effectively. It is also possible in some cases that there is a built-in tendency to risk obesity arising from the "organizational DNA," with a corporate ethos and culture that lead to excessive risk-taking.

The good news for projects suffering from risk obesity is that it is both treatable and preventable. This paper provides clear diagnostic symptoms to determine whether a project is risk obese, as well as proven treatment options.