This episode is sponsored by The Agile PrepCast. PDU for PMP®: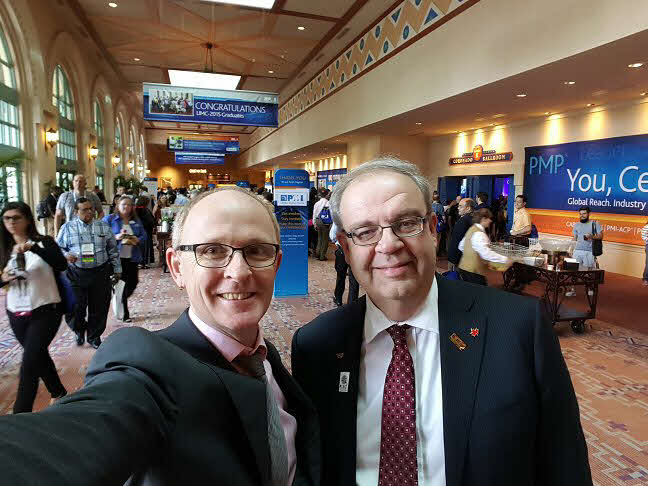 Cornelius Fichtner and Peter Monkhouse
This interview with Peter Monkhouse was recorded at the 2015 PMI® Global Congress in Orlando, Florida. We discuss his paper and presentation "My Project is Failing, It is Not My Fault". Here is the paper's abstract:
Projects fail. This is not new; projects having been failing for years. Studies have been done on why projects fail. The Project Management Institute (PMI) reported in the Pulse of the Profession® (2013a) that poor communication is the number one reason why projects fail. In fact, PMI states that poor communications is a contributing factor in 56% of the projects that failed.

But is this the fault of the project manager? A good project manager follows the appropriate methodology for the project, including using a variety of communication tools. But it is not just the method of communication that matters, it is the also the content of the communication that is important. The project manager needs to communicate with the project sponsor and stakeholders in the language of the business. The project manager needs to take the project data and convert it into business information that is actionable for the project sponsor and key stakeholders.

To do this, there are two tools the project manager can use. The first is to determine how the product or service of the project supports the organizational strategy. Knowing how the project supports the strategy of the organization will provide the language of why it is important for the project sponsor to support the project.

The second tool is the business model canvas which uses nine building blocks to describe how the strategy of the organization is implemented through organizational structures, processes, and systems. Knowing which block the project impacts will provide the project manager with the context to describe the project in the language of the business.

A project manager that speaks the language of the business will communicate more effectively with the project sponsor and project stakeholders, and improve the chances of the project meeting its objectives.