Get PMI Agile Cerfified Practitioner (PMI-ACP)® Training on your phone: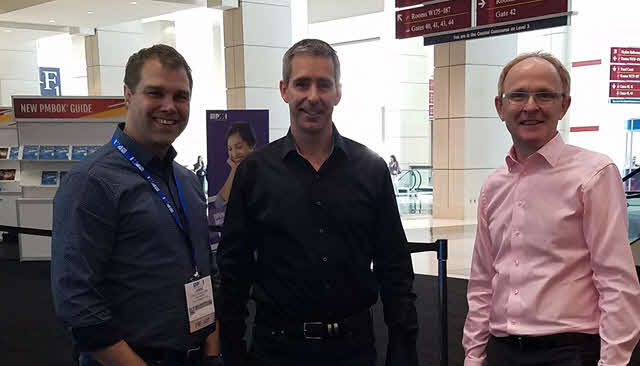 Jesse Fewell, Mike Griffiths and Cornelius Fichtner
Work is changing from industrial, routine work to knowledge-oriented work that requires more of an ongoing collaborative endeavor to manage change, complexity, and uncertainty. Learn how project management has evolved to reflect these changes with the publication of the new "Agile Practice Guide," developed in collaboration with the Agile Alliance.
This interview with Mike Griffiths (LinkedIn Profile) and Jesse Fewell (LinkedIn Profile) was recorded at the splendid Project Management Institute (PMI)® Global Conference 2017 in Chicago, Illinois.
We not only discuss the implications that The Agile Practice guide has on the PMI-ACP exam and your PMI-ACP exam prep, we also examine the core chapters of the new guide and discuss application and adaptation implications. We explore many elements of the guide and learn more about its content and use in a variety of domains.