Studying for the Project Management Professional (PMP)® exam? Get PMP Exam Prep on any mobile device!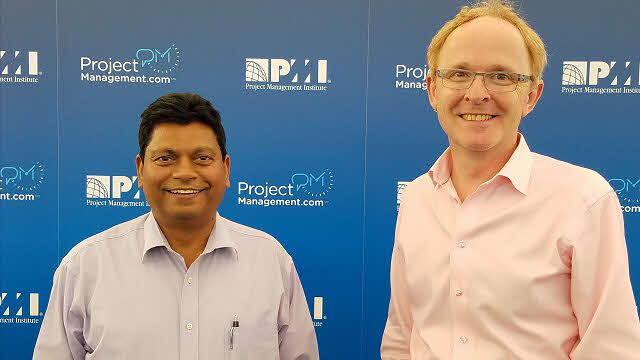 NK Shrivastava and Cornelius Fichtner
This interview about why Agile might be failing in your organization with NK Shrivastava was recorded at the Project Management Institute (PMI)® Global Congress 2016 in San Diego, California. We discuss his presentation and white paper Top Five Warning Signs That Agile is Not Working for You. Here are the abstract and conclusion:
Abstract: There are good possibilities of success when adopting an agile approach in an organization, but five symptoms in particular serve as warning signs that the organization's agile transformation is not working well.

The five warning signs include: (a) no signs of value delivery for over 3 months, (b) teams resisting customer changes, (c) teams "waterfalling" sprints, (d) customers foregoing involvement in development and testing, and (e) lack of visibility for agile in the organization. Potential solutions for these problems are also described in this paper. Many organizations can solve these problems internally, but sometimes an external resource such as a change agent or an agile coach is needed. By addressing these issues, organizations can increase the chances of a successful agile transformation.

Conclusion: Agile doesn't work by itself. Organizations that implement agile with minimal team support and expect it to work perfectly "out of the box" will likely be disappointed. Successful agile adoption depends on factors at the organization and team levels. Organizations need the right mindset, a strong commitment, a culture conducive to implement agile, and the ability to secure resources and outside help as needed. Teams need the training, skills, and empowerment to absorb and implement agile principles. With these factors in place, organizations and teams should be able to build the foundation for agile success.
As agile project management grows in popularity and use, it's important to consider what that means for us as project managers. There is no 'formal' role for a project manager in an Agile approach, but that's not to say project management isn't needed. We simply need to look for ways to provide project management, aligned with how the business works. From Scrum to Kanban, from the role of project manager in SAFe Agile and other ways of scaling, project managers have so much to offer in an agile environment.