The best Project Management Professional (PMP)® exam prep is PMP Training on your mobile device: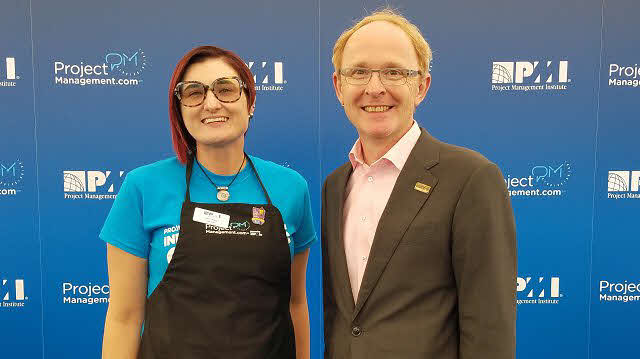 Dani Ritter and Cornelius Fichtner
This interview with Dani Ritter was recorded at the 2016 PMI® Global Congress in San Diego, California. Dani is the Manager, Community Engagement at Project Management Institute and her primary focus is the PM community of www.projectmanagement.com.
In the interview we discuss:
Why projectmanagement.com is at the congress
Its mission and relationship to PMI
How much it costs being a member (spoiler alert: it's free!)
The available resources, some of which are free PM templates, white papers, or webinars
How the community can help you if you have a PM related question
The online games (PM Wars and PM Challenge) that it offers
How members can get the most out of the site
How anyone can earn free PDUs by reading articles and attending virtual events
PDU Tip
This interview is 14 minutes 46 seconds long. This means that you can "legally" not claim any PDUs at all, because the minimum is 15 minutes for 0.25 PDUs. However... if you first listen to the interview and then also visit the site and spend at least 14 seconds reviewing all the great templates that they offer, then you can go ahead and claim 0.25 PMP PDUs in the technical category!
Click to visit the website