Episode 084: A Small, Troubled Project and What to do About it
This episode is sponsored by: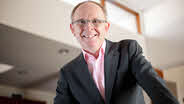 One of the projects that our show host Cornelius Fichtner, PMP is managing is showing signs of trouble. It is a small, offshore software development project and the quality of the code returned is not good. Because it is a small project that is in trouble there are one or two things that you need to do differently in order to rescue it than you would do on a large troubled project. In today's episode Cornelius talks about the three steps that he took in order to begin turning things around.
Last updated on .
Hits: 16493