Episode 107 Halloween Overtime: The Creepy Scope Creep
This episode is reserved for subscribers of the Premium Podcast. Learn how to subscribe to the Premium Podcast to access this interview...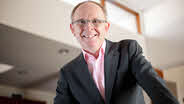 Two weeks ago I was at the PMI® Global Congress in Denver Colorado. For two days I was surrounded by about 4,000 other project managers. I listened to a number of great and not so great presentations and I also participated in a few meetings of the PMI's New Media Council. There were presentations on all kinds of topics including scope in project management.
My biggest problem is that in such moments it is very difficult for me to turn my brain off and more often than not thoughts collide and synapses meet and out come usually some good ideas and insights on project management. I have a personal issue with scope control in project management! The scope of what I thought I would be thinking about is spiralling, and I think that's a good thing! It shows the value of attending these events.
And over the coming episodes, I would like to share my thoughts with you, here on The Premium PM Podcast.
And I thought that since it is around Halloween, I start out with something CREEPY. In particular, Scope Creep.
To be precise, scope creep and the fact that it isn't really all that bad a thing to happen on your project. In fact, I recommend that we should all embrace scope creep on our projects. Understanding scope creep is a crucial part of project scope management, but not one that we need to avoid.
Last updated on .
Hits: 13501