Episode 413: When the Organization thinks they don't need Project Management (Free)
Download Project Management Professional (PMP)® training to your pocket: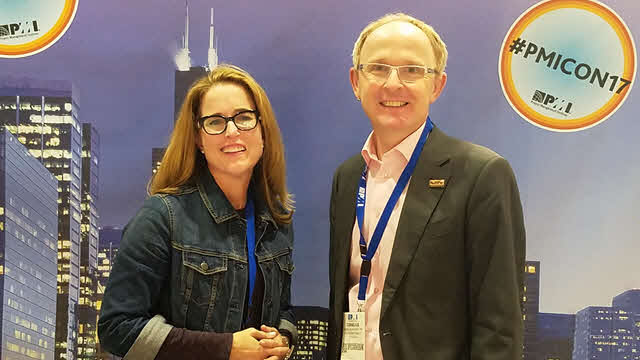 Jen Pfaff and Cornelius Fichtner
When an organization has a structured PMO, using your project management skills can be easy.
But, what if your organization doesn't have a PMO or doesn't even like the rigor of project management? What should an experienced project manager do?
This interview with Jen Pfaff (LinkedIn Profile) was recorded at the dazzling Project Management Institute (PMI)® Global Conference 2017 in Chicago, Illinois. (Trust me... it was 2017 even though I say "2018" in the opening...)
We'll talk about how to execute your projects and grow your project management skills all while setting your business and IT customers up for success. We'll see how organizations without a PMO can be effective by tracking basic metrics, and how key templates in your project management toolbox will help your project managers be effective.
Episode Transcript
Below are the first few pages of the transcript. The complete transcript is available to Premium subscribers only.
Podcast Introduction
Jen Pfaff: In this episode of The Project Management Podcast™, you'll see how organizations without a PMO can be effective by tracking basic metrics.
Cornelius Fichtner: Hello and welcome to The Project Management Podcast™ at www.pm-podcast.com. I am Cornelius Fichtner.
Podcast Interview
Cornelius Fichtner: We are coming to you live from the dazzling 2018 PMI Global Conference here in Chicago. With me right now sitting here in the hallway is Jen Pfaff. Hello, Jen!
Jen Pfaff: Hello! Thank you for having me!
Cornelius Fichtner: Oh, you are welcome! How are things going for your at this Congress?
Jen Pfaff: They're fantastic! It's great to be here.
Cornelius Fichtner: And you've had your presentation yesterday, is that right?
Jen Pfaff: That's right, yup! I was on yesterday afternoon.
Cornelius Fichtner: And how was it for you standing in front of all of these wonderful project managers excited?
Jen Pfaff: It was fantastic! It was well received. It's fun to be here and I'm glad to be a part of the presentation group.
Cornelius Fichtner: Alright! The title of your presentation is "When the organization thinks they are running too fast to use project management". What's the story behind this? There's got to be something, right? A company that you worked for they thought: "Ah, we don't need to stinking project management."
Jen Pfaff: Right, right! You know before we even get started maybe I should even go back a little bit and say that I am just so thrilled to be a part of your Podcast. Thrilled that you asked me to be a part of your program. I should say that a number of years ago when I was going to learn some new technologies and new techniques that the first place I reach before I went to a book or to the internet, I love to listen to some of your podcasts to get some new information and you're still a part of my podcast yeah so.
Cornelius Fichtner: Thank you!
Jen Pfaff: Thank you for asking me to be a part of your program.
To answer your question, I'm with a company that many of you may have heard of with Domino's Pizza wherein just a tremendous organizational growth period. We just became the number one pizza company in America and with that one of the things that comes along with that growth is this balance between process and innovation, innovation to speed to market.
So as we're managing our projects, we are looking at how do we make sure we get projects and products out the door quickly. And so, how does that speed to market impact or work with the way we're working on our process and projects. And it's very different than a lot of the companies that I worked in before. They were in a declining growth kind of market. So as I was thinking about how could other team members, what will their interests be, I thought that might be something I could share.
Cornelius Fichtner: Right. So let me see if I got this right: Because you're so successful, things are speeding up to the point where project management is no longer regarded as a necessity?
Jen Pfaff: So let me be careful as I share that. I don't want to scare anybody. We certainly have quality metrics. We have QA involved throughout the cycle of our projects. But we want to be careful that process doesn't get in the way of innovation and that's something that I think that we talk about.
What's important for us is getting things to our customers very quickly, getting things out to market so that we can stay on top of our technology and so there is that fine balance and that's what the topic was about. It's what is the right amount of project management for a team.
And if an organization doesn't have a PMO and you're this experienced project manager, is that anything that you'd be nervous about or can you find that right place for you and your career in that organization. And my suggestion is absolutely! There are definitely places if you don't have a PMO where you can be incredibly successful. You can take your career to places you haven't even thought about like we have and really extend your career. So…
Cornelius Fichtner: So how much project management and process do you then currently have?
Jen Pfaff: Okay, so this is going to be kind of the consultant answer, right: It depends.
Cornelius Fichtner: It depends, yes, okay!
Jen Pfaff: Do we want to go somewhere with that or…
So really it does depend and one of the things that we talked about is there's definitely that traditional PMO structure and then there's the non-traditional PMO structure.
In your traditional PMO structure, you're going to have formal project review process where you have templates, have a structured process, project register, where you would list all of your projects perhaps the very formal methodology, a team of PMs.
And then you're going to have in a contrasting way, a non-traditional PMO structure which will be what we are working with. Neither is right or wrong, but it's another way to get your projects done which I am suggesting can be very successful especially when you have folks who have credentials whether it's your CAPMs, your PMPs, your experienced project managers can bring those kinds of experiences to help that non-traditional structure and non-PMO organization be incredibly successful and sometimes in a very creative format in that non-traditional structure. They can have those checks and balances by potentially having close customer contact and an open office.
We prioritize projects but not in that necessarily project register format. We're allocating our resources by business unit. So there's a lot of things that happen but in just a different, less structured format and that fluid format is what I am suggesting helps us continue to be successful in moving things along. I'm not suggesting there's no format or it's the wild, wild west. I am suggesting a little less structure allows us to move quickly.
Cornelius Fichtner: Who then keeps the oversight over everything that's going on? Because you know in a traditional PMO, you have an annual plan. These are the projects we're going to be working on. Somehow that sort of planning still has to happen somewhere. People have to think about saying: "Okay, out of these five projects, which ones are we actually going to do and tackle?"
Jen Pfaff: Sure, sure, see you're absolutely right. Again it isn't free-for-all. We certainly are a very large organization. We do have a way to capture our projects. They are reporting. Our CIO has and absolute oversight of all of the projects that are happening. There is a budget all of our large projects. So all of that tracking does still happen and as I mentioned, QA is involved in all of our large projects. It isn't any kind of a chaotic process at all. But it is slightly looser process.
And one of the things we did talk about yesterday as well, particularly related to methodologies. It is definitely a mixture of, a hybrid of many different types of methodologies. And sometimes within the same project and we can go there if you'd like but that is another reason I think it has remained so successful especially of late.
Cornelius Fichtner: So what are the mixes, the hybrids that you're using?
Jen Pfaff: Sure! Some of the things that we see particularly lately are the mixture of Agile and Waterfall and then one of the things, it also just a little bit of everything else.
So I have a large project right now in our payments area, which is why I manage what's called payment strategy and what that means is if you go into a Domino's and you go to buy pizza whether it's in a store or online and it works, that means my team is doing their job. And if it doesn't they'll call our call center which is my other team. So we'll hear about it.
Cornelius Fichtner: I'm very happy that we are mentioning this right now because there may have been some listeners out there who are thinking: "Wait, you're trying to get pizzas faster to the customer?" That's not what we're talking about.
Jen Pfaff: Right, right!
Cornelius Fichtner: Your customers are not necessarily the customer customers that buy the pizza but your customers can also be other departments within your organization, right?
Above are the first few pages of the transcript. The complete PDF transcript is available to Premium subscribers only.
PDUs: Ways of Working, PMI Global Conference, PMI Global Conference 2017