Episode 292: Tap Your Interpersonal Skills to Shine as a Project Manager (Free)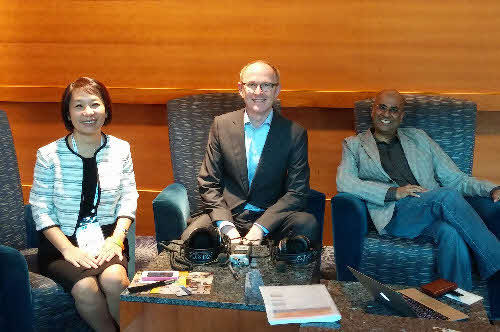 This Interview with Kristy Tan Neckowicz and Dev Ramcharan was recorded at the PMI Global Congress 2014 in Phoenix, Arizona.
In their presentation, Kristy Tan Neckowicz (http://www.linkedin.com/in/kristytanpmp) and Dev Ramcharan reviewed harnessing leadership skills necessary to advance your PM career and shine in your role, how to hone your interpersonal and communications skills to manage teams and stakeholders and discussed ways to realize the critical importance of coaching and mentoring in your career, to demonstrate value to your organization.
And in our interview we open the presentation slides and review the following parts: Why you should care about interpersonal skills, behavior styles and motivators, emotional intelligence, the emotional wake, organizational culture and politics, and we close with the all important look at conflict management and coaching.
Please visit http://yourtalentatwork.com to learn more about Kristy and http://www.arouca-coach.com for Dev.
Below are the first few pages of the transcript. The complete transcript is available to Premium subscribers only. 
Podcast Introduction
Cornelius Fichtner: Hello everyone! We are coming live from the PMI Global Congress 2014 here in Phoenix.
Podcast Interview
Cornelius Fichtner:And with me this morning are Kristy Tan Neckowicz and also Dev Ramcharan. Hello Kristy!
Kristy Tan Neckowicz: Hello.
Cornelius Fichtner: She is currently wearing my other headset and Dev and sitting next to us sort of on the side and we will bring him in to the conversation a little later on. Both Dev and Kristy are going to be presenting, is it today?
Kristy Tan Neckowicz: Yes.
Cornelius Fichtner: Yeah, later today. And the title of your presentation is Skills to Shine, Tap Your Interpersonal Skills to Advance as a Project Manager. Before we get into this, let me ask you a general question: How did you decide that you wanted to present here are the PMI Global Congress? How did that happen?
Kristy Tan Neckowicz: So actually Dev and I were invited to speak along with colleague Mark Dochtermann who we've been doing a panel together for PMI on sort of a webinar platform where we would give our opinions and the audience would give us thorough questions at us and we take turns answering the questions.
We've done this a couple of times now for PMI to attract members of PMI who have gotten their PMP and now wondering what they should do next with their career. So it's a little bit about like career development, what-do-I-do-next type of webinar and they thought it was very successful and they invited us to speak.
Cornelius Fichtner: Perfect! Your topic: Skills to Shine, Tap Your Interpersonal Skills to Advance as a Project Manager. What we're going to do, we're going to follow along the presentation, not going to it in complete detail. You start out the presentation with the perfect question: Why should you care about interpersonal skills? So why should our listeners care about our conversation this morning?
Kristy Tan Neckowicz: Well it's something that we believe very strongly about and I think it's because we've live through the pains of not caring. So in the beginning of my career because I have an engineering background, I always thought you know it's about getting things done and if it wasn't for all the people we will get things done so much faster. You know all these people promise that we have.
When I became a manager, my biggest complaint was all the people problems that we had like we will just get things done and stop worrying about the people problems. And it was not until about 5 years later into management role that I realized, my goodness, that is my job. The people problems, that's really my job you know and if I take care of that, everything else will take care of itself. So I devoted a lot of my management career in developing people, taking care of the interpersonal issues, interpersonal problems, communication problems.
Cornelius Fichtner: So let's jump into the skills. The first thing you talked about are behavior styles, why do they matter? Why are they important?
Kristy Tan Neckowicz: So I actually think about a person that you are interacting with as a combination of 8 different aspects of the person. One of them is how they behave. So that's one aspect of a person. And I also go on to the other aspects as well in this presentation.
So I don't like the type of personality typing or the type of human behavior type identification that people do to bring in as "Oh he's in extrovert" or "she is an introvert" or 'He is a type A' or a driver or such and such. I like to think of it as only one aspect of a person. So I always start when I teach and to talk about developing people and understanding who you are talking to and who you're working with. I like people to think about behavior as one aspect and I help people identify them you know 4 different, common behaviors that we see in everyone. And everyone behaves in varying degrees of in this case what I'm talking about is the DISC model which is DISC stands for dominance, influence, compliance standards and steady.
Cornelius Fichtner: Okay and these are the 4 behavior styles?
Kristy Tan Neckowicz: Yes, the primary behavior styles and we all have a blend of that. I like DISC model that we use because it doesn't say you're this letter but it actually says, you are this blend.
Cornelius Fichtner: Okay, get it. Alright! We're moving on from the behavior models onto the motivators. What are motivators? How do they fit in to the skills that we need to advance as project managers?
Kristy Tan Neckowicz: So motivators are probably the most important things to understand when you're dealing with people because it's why they do what they do and what makes them passionate. So either you may know someone to be a certain behavior style. But when you trample on something that's important to them, something that motivates them, they become a different person.
So it's enough to understand how somebody behaves all the time but it's important to understand what motivates them and why they choose to be that way. So I talk about the 6 different, common motivator categories that we all have and our top 2 are the ones that drive us into action. So usually if you, either you ask me to: What is our genre movie, or do performance of a task for you? If I feel okay about that that fits within my motivators, I'll do it. But if it's something I'm very passionate about, I'm going to do it really well.
So when you're dealing with people or you're managing people or you're thinking about your career, you want to tap into what motivates you so you can be the best that you can be.
Cornelius Fichtner: Does it also help me to understand other people's motivators, the people on my team to use it to the benefit to help them?
Above are the first few pages of the transcript. The complete PDF transcript is available to Premium subscribers only.