Episode 295: PMI Certifications and their Value for Your Project Management Career (Free)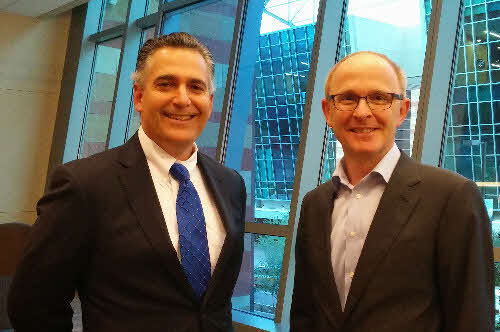 This Interview with Frank Schettini was recorded at the PMI® Global Congress 2014 in Phoenix, Arizona.
Frank Schettini is Vice President of Information Technology for the Project Management Institute (PMI). But our interview has nothing to do with IT whatsoever. Instead, we focus on PMI's suite of professional certifications and their value to project managers in their careers.
We begin by discussing the 30th anniversary of the Project Management Professional (PMP)® credential and if the PMI® Agile Certified Practitioner (PMI-ACP)® will ever overtake the PMP certificate. Then we switch gears and look at the talent triangle (which encompasses your technical skills, leadership and business acumen) and how the trend for "fast, online PDUs" is a bit counter to the central concept of the triangle. We close our discussion by taking a detailed look at both the Portfolio Management Professional (PfMP)® and the PMI® Professional in Business Analysis (PMI-PBA)®.
Episode Transcript
Below are the first few pages of the transcript. The complete transcript is available to Premium subscribers only.
Podcast Introduction
Cornelius Fichtner: Welcome back everybody. I am still at the PMI Global Congress 2014 in Phoenix, Arizona.
Podcast Interview
Cornelius Fichtner: And with me right now is Frank Schettini. He is the Vice President of Information Technology for PMI. Hello, Frank!
Frank Schettini: Hi everyone! How are you?
Cornelius Fichtner: Tell us a little bit more about yourself. What do you for PMI in this position as VP of IT?
Frank Schettini: Sure! I'm in charge of all of technology that we either build, manage or deploy for the whole institute globally. So that includes everything from all the applications, the systems and actually do the certification processing, the continuing credits part of the system, as well as all things, the web properties in terms of development on those as well.
Cornelius Fichtner: Okay.
Frank Schettini: So it pretty much runs the full gamut of anything you can think of that's technology is something we do. I also have the Enterprise PMO, for PMI actually, is in my group as well.
Cornelius Fichtner: Alright! Now, this is interesting because we're probably not going to be talking about any of these.
Frank Schettini: That's right. Why would we do something like that?
Cornelius Fichtner: Yeah, we're going to have a little bit of a free flowing discussion today. We want to get started with the 30th anniversary of the PMP® Exam. I wasn't even aware that was happening until I came here and everybody was wearing these t-shirts.
Frank Schettini: I just want you to know I'm very upset about this because I haven't gotten any t-shirt yet. No actually, this is a phenomenal anniversary. We're very excited about it. We're excited about the growth of the PMP and more importantly, the global acceptance of project management. We're seeing unparalleled access or interest in project management globally both at the government level in all different, in governments around the world as well as obviously within organizations. So it's a very exciting time.
Cornelius Fichtner: Yeah. So how has the PMP changed over the years, these 30 years from your perspective?
Frank Schettini: Well, it has been an interesting evolution and obviously, the PMP® Exam itself and everything is really a reflection of what's really the key drivers and really what the standards are globally in terms of project manager and what are the accepted best practices. And obviously those have changed over time in that time frame.
Initially, a lot of the focus was on probably a lot of the technical skills. I think as the profession has evolved, it has moved into some of what we call the softer skills, the leadership skills as well as understanding business. So we're using kind of an evolution happening with the PMP, as well as what project managers have to do globally.
The other thing for me, the most exciting part about the PMP, we have over 600,000 globally at these stages. Over half of those are outside of North America. That is actually an incredible statistic from our perspective because it has obviously grown fairly quickly. But the international acceptance has been even larger, as largest as what we've seen in North America, and for us, that's very exciting.
Cornelius Fichtner: One of the changes that I have personally seen because I'm a PMP trainer is that some students are coming back saying: "Oh there were certain Agile questions on the exam." So Agile is a big trend. Obviously as a PMP, I have to be aware of this so it will be tested on the exam.
But PMI also has the Agile Certified Practitioner. So do you see at some point emerging of this because everyone is talking about Agile and the question is you know, is the ACP going to just explode and take off and the PMP is going to go down?
Frank Schettini: I actually think the PMP will always be the number one certification because it is accurate. It is the reflection of what is the standard globally-accepted practices across the world which may include some of the Agile tools and practices.The great thing about the exam is that the questions are written by volunteers, professionals and that they are going to evolve overtime. And as the industry involves, so will the exam.
From the Agile perspective, we saw that there is a lot of misunderstanding as to what Agile was. Was it Scrum, was it XP or whatever. So when we started exploring the Agile certification, we weren't sure where we're going to end up because we actually don't do certifications for the sake of doing certifications. We do it based on the market need is.
When we got the Agile experts including one of the original writers of the Agile Manifesto that worked with us on the team, when we did the research and investigation, we found the key problem that we had to solve was two people couldn't define Agile the same way. So we went back to the grassroots of the Agile Manifesto and said: "Okay, here's really the primary knowledge areas and then associate it with that." That's really what drove that exam.
Now, a lot of those things in terms of being nimble and fast and self-empowered teams and different leadership models is actually what we're seeing in industry today. So you are seeing in some cases more of those types of questions associated with the PMP as the PMP evolves. I think there will always be room for both of them and I think the PMP will always be number one.
Cornelius Fichtner: One thing that Ricardo Triana talked about yesterday was the talent triangle and this is important for project managers, for PMPs in particular. Tell us a little bit more about it. What is it?
Above are the first few pages of the transcript. The complete PDF transcript is available to Premium subscribers only.
Last updated on .
Hits: 14131