Episode 373: Stuck on your Project? Get Un-Stuck with ProjectManagement.com (Free)
The best Project Management Professional (PMP)® exam prep is PMP Training on your mobile device: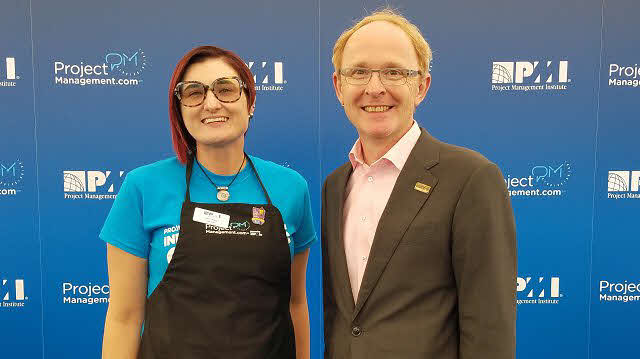 Dani Ritter and Cornelius Fichtner
This interview with Dani Ritter was recorded at the 2016 PMI® Global Congress in San Diego, California. Dani is the Manager, Community Engagement at Project Management Institute and her primary focus is the PM community of www.projectmanagement.com.
In the interview we discuss:
Why projectmanagement.com is at the congress
Its mission and relationship to PMI
How much it costs being a member (spoiler alert: it's free!)
The available resources, some of which are free PM templates, white papers, or webinars
How the community can help you if you have a PM related question
The online games (PM Wars and PM Challenge) that it offers
How members can get the most out of the site
How anyone can earn free PDUs by reading articles and attending virtual events
PDU Tip
This interview is 14 minutes 46 seconds long. This means that you can "legally" not claim any PDUs at all, because the minimum is 15 minutes for 0.25 PDUs. However... if you first listen to the interview and then also visit the site and spend at least 14 seconds reviewing all the great templates that they offer, then you can go ahead and claim 0.25 PMP PDUs in the technical category!
Click to visit the website
Episode Transcript
Below are the first few pages of the transcript. The complete transcript is available to Premium subscribers only.
Podcast Introduction
Cornelius Fichtner: Welcome back everybody to The Project Management Podcast™ at www.pm-podcast.com. Once again we are coming to you live from the 2016 PMI Global Congress in sunny and quite warm Southern California. We are in San Diego and I'm sitting here in the Solutions Center with Dani Ritter.
Podcast Interview
Cornelius Fichtner: Hello Dani!
Danielle Ritter: Hi Cornelius, how are you?
Cornelius: I am doing very well and just for all our listeners you may hear some talking in the background, that is a presentation that's currently going on over at the Expo Talks. Dani, you are the Manager of Community Engagements for www.ProjectManagement.com What on earth are you doing here? You're a website.
Danielle: We are. We are. However, I like to think of the community as being much broader than the website. We think of the website as the "home" for the online community but community happens everywhere. It happens at Congress, it happens at chapter meetings, it happens at happy hours, it happens at community service events. So, we like to try and be where the community is to try and make sure that people understand where they can go after they finished gathering to get more connection, connect with one another, continue the conversation and find tools, resources and other things to help them generally get unstuck doing their profession.
Cornelius: Alright. And what are you doing for the community here during the Congress? What events do you have?
Danielle: Yeah. So we're really excited. This is the second year that we've done this and we're bringing out ten of our subject matter experts from the community. These are high influencers within the community. They answer a lot of community members' questions. They produce a lot of content and they are here on behalf of the community to meet with Congress attendees and basically have many consulting sessions. They represent a broad and diverse area of expertise and they are basically able to sign, if congress attendees can sign up to meet with somebody in healthcare, or somebody in risk and really address the question or challenge that they may not really want to bring forward in a very large group but fifteen minutes gets down a little bit of time with an expert and a conversation that they can continue after the fact. And a connection with an expert that they can carry forward and bring in to their professional network.
Cornelius: Excellent. That's of course fantastic for everybody who's here right now but by the time this interview is published, it will all be over and we have to wait for Chicago 2017 until we can do this again so what we're doing right now is we're bringing the website benefits to our listeners. That's what we want to do. We want them to realize that ProjectManagement.com is a great resource for their career development as project managers.
Danielle: Absolutely!
Cornelius: What is the mission statement of ProjectManagement.com?
Danielle: Our mission statement's pretty simple. We're there to get project managers unstuck. When they have that one sticking point, a challenge, they need a template now and they can't find one, they need a question answered by somebody who's been through this before, that's what the community is there to do for them. That's what project management is there to provide. It's a place to go. Think of it as your resource, your one-stop destination to get you unstuck when you hit those points in your career.
Cornelius: Okay! How do you help them get unstuck? What benefits do you offer?
Danielle: Well, we offer again, the online community has discussion forums. It has discussion threads where you can post a question and get it answered by members of the community. We have blogs that are done by members of the community and experts in their field where they're writing on a consistent basis about thematical topics of interest.
There are webinars, again these are very experiential based so it's peer-to-peer, people that are sharing what has happened to them in their careers, project challenges that they've experienced, tips, best practices, there's all kinds of templates that members have submitted over the years that are embedded by other members of the community.
Cornelius: Oh wait, hold it right there. Templates!
Danielle: Yes. Templates.
Cornelius: Like Project Management plans, charters, all of that?
Danielle: Absolutely! Deliverables, again, things that members have submitted over the years that have worked for them and that they want to share back with the community and these are all part of member benefits in PMI.
Cornelius: Okay! Now, you mentioned two things that we have to jump into right now: Member benefits, member and then PMI. Let's begin with PMI. What is your relationship with PMI?
Danielle: ProjectManagement.com for those of you who are familiar with its past iterations as Gantthead perhaps, so ProjectManagement.com on its own has been in existence for almost ten years but in 2014 they joined the PMI brand family. They became PMI's destination for online community and practitioner products and offerings. So, it's considered now part of PMI. It's an extension of the PMI brand and as a PMI member you have full access to all the resources that are available on ProjectManagement.com.
Cornelius: What if you're not a PMI member?
Danielle: If you're not a PMI member, you can still join the community in ProjectManagement.com. It's designed to be a very inclusive of the global community. There are certain things that are behind the member firewall, if you will, but there's a lot of content that we unlock on a limited basis and there's a lot of content that we make available for free all throughout the year.
So, if you're not a member you can still join, create a profile, connect with one another, browse the free content and build your professional network and ask questions. You can purchase it freely in the discussion threads, all of that is still part of your benefits as just being a member of the community, whether you're a member of PMI or not.
Cornelius: Okay. So, the benefit for PMI members is you can just log on with your PMI membership information and you have access to everything that you offer.
Danielle: Everything.
Cornelius: Very nice.
Danielle: That includes right now, over 1300 PDU-bearing webinars.
Cornelius: Oh, let's go right there, okay. So, people who listen to the Project Management Podcast™ know, listening to the podcast qualifies for PDUs and you offer PDUs as well.
Danielle: We do. We do.
Cornelius: So I have to hate you for that because you're now taking all my listeners away.
Danielle: I don't think so. I would highly doubt that. I've watched too many people engaged in your podcast to know, I know better. They're not leaving you.
But no, we do have quite the opportunities to earn PDUs. All the webinars are aligned for the Talent Triangle. They are aligned to the various certifications and listening or watching those webinars online thru ProjectManagement.com, if you signed in using your same credentials that you would use to login to MyPMI, whether you got a credential or membership, they will tie right back into this Continuing Certification Requirements system and report your PDUs on your behalf.
Cornelius: Right! Which is something that I can't do on the Podcast but you can because you measure – are you watching this webinar? Have you watched it all the way through and in my case, you download the podcast to the phone, you listen to it on the phone and there is no feedback so the listener has to track it and report it themselves.
Danielle: Right, right.
Cornelius: Okay. I hate you even more.
Danielle: Well, they get to download your content that way. Our webinars are not available for download. They have to watch them on the site because it's not our intellectual property. The intellectual property is freely and voluntarily contributed by members of the community. They retain their intellectual property and we retain our license to use that content in that one particular instance.
Cornelius: Alright! So, we talked about the templates. We talked about the webinars and what else?
Above are the first few pages of the transcript. The complete PDF transcript is available to Premium subscribers only.
Podcast Episodes About PDUs, PDUs: Ways of Working, PM Career Development, PMI Global Congress, PMI Global Congress NA 2016, PM Resources