Episode 334: PMP® PDU Program Updates are Coming On December 1st 2015 (Free)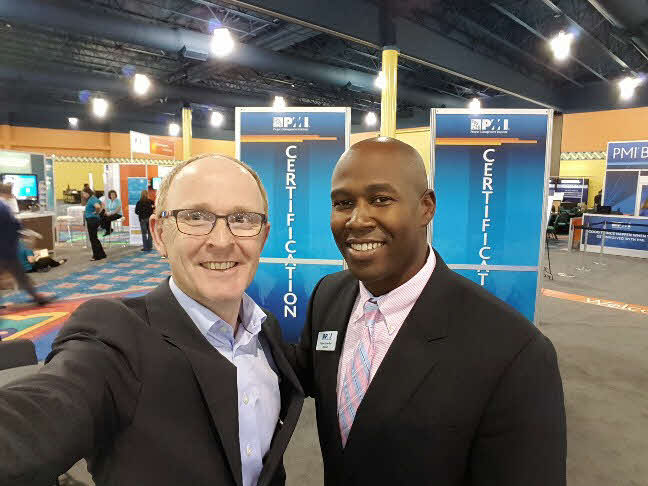 Cornelius Fichtner and Victor Carter-Bey
Do you have a PMI® certification like PMP®, PgMP®, PfMP®, PMI-ACP®, PMI-RMP®, PMI-SP® or PMI-PBA®?
If yes, then this interview is extremely important to you because the rules on earning PDUs are changing on December 1st, 2015.
In a nutshell: PMI is introducing the Talent Triangle, which has Technical Project Management, Leadership, as well as Strategic and Business Management on its three sides. Going forward you must earn 60 PDUs every three years including PDUs in each of these three areas.
This interview with Victor Carter-Bey (Director Certifications, PMI) was recorded at the 2015 Global Congress in Orlando Florida. We review the Talent Triangle, the details of what exactly changes with the PDUs including the PMP PDU categories, the timeline of implementation and how to report them going forward.
Please visit the PMI website for all the details on these changes...
Episode Transcript
Below are the first few pages of the transcript. The complete transcript is available to Premium subscribers only.
Podcast Introduction
Cornelius Fichtner: Hello everyone and welcome back to the Project Management Podcast coming to you once again live from the 2015 PMI Global Congress here in Orlando, Florida at the Disneyland Resort - Disneyworld Resort, pardon me. We are sitting right now here at the PMI booth in the Exhibitor Hall. People around us are still setting up and with me is Victor Carter-Bey. Hello, Victor.
Victor Carter-Bey: Cornelius, how are you? Pleasure to see you and pleasure to meet you.
Cornelius Fichtner: Doing very well, same here, thank you. So what is your role with PMI? What do you do?
Victor Carter-Bey: I work as the Director of the Certification Program, a role that I have been in for, just about four and a half years now at this point. And what that means is that I'm in-charge with the overall responsibility for all eight PMI certifications and that takes us all the way from the development and maintenance of the certifications all the way to the positioning and promotion of the certifications to ensure their global relevancy and what is increasingly becoming a pretty competitive market in the project management certification space.
Cornelius Fichtner: Last year in Phoenix, I interviewed John Kline. How does he relate to you and your position?
Victor Carter-Bey: John is a fantastic guy. John is a member of my staff. He is the Manager of Certification Products which essentially means he works to help that those goals that I just outlined with respect to my responsibilities that we're able to get those accomplished. But specifically, Cornelius, what he does is that he oversees our product manager team. PMI takes a product management perspective in approach to the maintenance and really, the relationships that we try to establish with all of our stakeholders in the certification program. We take a product management approach and John oversees all the product managers and works on a number of different functions related to the product management area.
Cornelius Fichtner: Okay. Certifications is your area and we want to talk today about three primary high level topics - the Talent Triangle, PDUs, and also the CCRS, the Continuing Certification Requirement System. Let's begin with the Talent Triangle. What led to the development of the Triangle?
Victor Carter-Bey: It's a great question and one that I am increasingly enjoying having the conversation on because as we think about where things are in the global marketplace, and it's somehow, sure, we're going to focus specifically on project management but even there's an argument outside of the project management realm that you're dealing with the challenge of practitioners. People with multiple industries. But in this case, Cornelius, project program portfolio management who have incredible technical skills. So the ability to lead and direct projects and programs to understand all the nuances that go into managing those projects and programs, all those skills are great. And a lot of our project managers, particularly, those who hold our certifications do a fantastic job. But challenges become as organizations, particularly those who hire and promote an employee, these folks, they're saying to us that they need to have - do a better job with their softer skills. So we think about things like leadership, negotiating, communications. So specifically, what has happened and with respect to the Talent Triangle for PMI is that our President and CEO, Mark Langley, often goes out, speaks to executives from all over the world. And one of the constant themes that came up in his conversation was his need for project managers to essentially have better skills in those areas. So that all manifested itself into the PMI Talent Triangle which the three sides representing those technical skills that I referenced earlier. And also Business and Strategic Management Skills and then, finally, Leadership Skills.
Cornelius Fichtner: How central is the Talent Triangle going to be for PMI's future?
Above are the first few pages of the transcript. The complete transcript is available to Premium subscribers only. Please subscribe to our Premium Podcast to receive a PDF transcript.
Podcast Episodes About PDUs, PM Career Development, PDUs: Not Applicable, Podcast Episodes About CCRS, PMI Global Congress, PMI Global Congress NA 2015